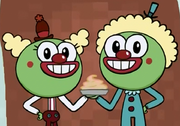 SwaySway
's great great grandparents were not
Breadwinners
, they were clowns. they were revealed in the episode
The Brave and the Mold
. 
Appearance
SwaySway's great x2 grandfather wore a blue top hat with an afro (blond). He had red lips, a big red nose, and bright red cheeks. He had a blue suit with a white collar and red buttons. SwaySway's great x2 grandmother wore a red hat with a pompom on the top. She had pointy pigtails (also blond). She had red lips, a big red nose, and rosy cheeks. She had red overalls with green buttons, and a white shirt under it.
Reputation
SwaySway's great great grandparents are considered a discrace to the family. Here is a list of reasons why they are a discrace:
1. They were not Breadwinners
2. They were clowns.
3. They did not follow the family tradition.
4. They were probably a little on the crazy side.